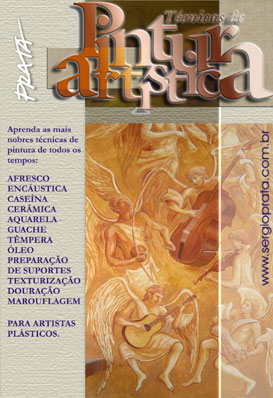 This DVD shows how to make your own materials for painting and explains many painting techniques.
Prata demonstrates how to make several mediums and emulsions, how to manipulate dry pigments, gums, wax and oil, in ancient as well as modern techniques.

You will be able to create your own Frescoes, Casein, Ceramics, Water colors, Gouache, Egg paintings, Ancient oil painting, Acrylics, Alquidics, textures, gold leaf, and learn how to prepare painting supports and how to maroufle your drawings over other supports.
DVD, launched in 2000, VHS - NTSC 80 minutes.

CDROM "PAINTING TECHNICS, ANATOMICS FOR ARTISTS AND ART COMPOSITION AND ANALYSIS."

In painting techniques, you see the videos and read the books, about the same techniques explained in the techniques book and video.
In Anatomics For Artists, you learn about bones, tendons, muscles, model's work and movements, the evolution of representation, phrenology and physionomony, anatomics differences and the master's secrets.
In Composition and analysis of Art works, learn about force lines, visual circulation, geometry, triangulation, equilibrium, rhythm and some others master's knowledges.
CD-Rom multimidia for PC Windows. A complete work about three subjects with videos, locutions, sounds, texts, drawings and paintings.